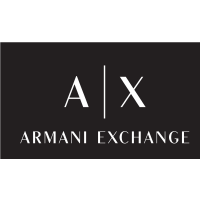 Location – Ground Floor
Daily, from 11:00am to 9:30pm
Armani Exchange
Since its foundation, the concept of exchange has always been a key element for the brand: starting from a cultural exchange between Italy and the United States, between Milan and New York. One being the city where Giorgio Armani decided to build his life and career in, and one where Armani Exchange was first launched, with a store in SoHo, offering Italian style and know-how to the new American generations.
Armani Exchange celebrates the beauty of diversity as well as society's cultural melting pot: everybody is unique, everybody is important.
Armani Exchange provides contemporary basics for all, encouraging individuals to express their individuality and confidence.