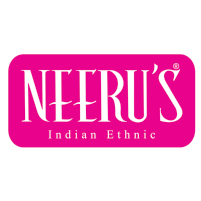 Location – 2nd Floor
Daily, from 11:00am to 9:30pm
Neeru's
The Wedding Galleria has marked a new phase in the ethnic fashion trends of not only Hyderabad and South India but whole of India and Indians across the World.
Neeru's has always known what a woman loves best and hence the products also reflect a certain standard of tradition and class. The grace and the sophistication it lends to the wearer is simply unmatched, no other piece of fabric or clothing item has the power to please a woman than a silk sarees. Knowing this too well and always up to date with the customer's pulse Neeru's Emporio has stocked its shelves with some of the most intricately designed exclusive Banarsi sarees. Owing to the tremendous growth in the fashion industry. Silks is no longer relegated to traditional mulberry silk but now numerous varieties are available at Neeru's such as the Kanjeevarams, Uppadas, Pochampallys, Gadwals and Much More.
Not only will it be the cultural and traditional fashion hub, NEERU'S EMPORIO is all set to revolutionize Silks as used in ethnic fashion. With a bouquet of ensembles from Silk sarees, Designer embroidery Sarees nor just traditional but in different silhouette, half Sarees, Lahengas, Salwar suits ( Ready to wear & Unstitch) Tunics, Mix & Match from top designers labels from India and in-House labels and the USP of Neeru's is to give the best in fashion at the reasonable price tag. Here every woman is a queen of her own palace. While the women pick and choose ethnic creations that appeal to their senses, the men too can indulge in the Menz collection that is a reflection of the contemporary Indian male, traditional yet in mode. From fine fabrics to ethnic wear, the collection is a showcase of fine designs and haute couture. The Emporio also caters to the young fashion trends with an array of ethnic attires for the little ones. The kid's collection is on par to the men and women's collection when it comes to designs and style along with Accessories. The collection is exclusively dedicated to upcoming Wedding season. Women & Men can pick and choose an ethnic creation that appeals to all their senses.